Boiler Replacement Sutton Coldfield
We carried out a Boiler Replacement for Mr Harris at his property in Four Oaks, Sutton Coldfield. He was having a complete bathroom renovation carried out. The existing boiler was in a bathroom cupboard, but this needed moving. Due to the age of the boiler, Mr Harris decided to have a new boiler installed whilst all the work was going on.
After discussing all the options and carrying out a survey, Mr Harris decided on a Worcester Bosch 32cdi Compact. He chose this due to the size of the boiler. He wanted it to build a cupboard around the new boiler so space was a deciding factor. Although the boiler is small in size, it is still high performing boiler.
Mr Harris decided to have the Worcester Bosch Comfort 2 thermostat fitted to control the boiler. We also fitted a Worcester Bosch Heating filter to protect the new boiler.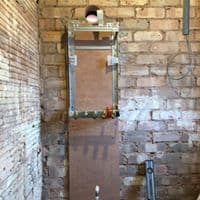 This Boiler Replacement comes complete with a 10yr parts and labour guarantee from Worcester Bosch on both the boiler and the thermostat, giving Mr Harris complete peace of mind.
This is one of many boiler replacements we have carried out in Sutton Coldfield. If you would like further information, or looking for a boiler replacement then get in touch today