New Boiler Sutton Coldfield
This New Boiler in Sutton Coldfield was one of my favourite jobs we have completed. Mr Scott got our details from the Worcester Bosch website. From the initial phone call, we arranged a site survey to be carried out. Mr Scott had done his research in to what new boiler and system he would like. The current set up was an open-vent system incorporating a heat only boiler in the kitchen, cylinder in the airing cupboard and two tanks up in the loft. Mr Scott wanted to keep some stored water, but wanted it at mains pressure. The only option for this was an un-vented hot water system.
Originally, Mr Scott was going to have the new boiler and cylinder fitted in the same locations as the existing. After carrying out a full survey, I suggested to Mr Scott to put the new boiler and cylinder up in the loft out of the way. This created an extra cupboard in his kitchen and extra storage in the airing cupboard.
After carrying out the survey, we decided to fit a Worcester Bosch 30cdi System Boiler and a Telford 250l slimline twin coil cylinder. We fitted the twin coil cylinder as Mr Scott was having solar panels fitted, and need the extra coil for the solar connections.
The system underwent a full power flush prior to the new boiler being fitted. We also fitted a Worcester Bosch Central Heating filter to protect the boiler from future sludge build up. We also fitted lever valves before and after each zone valve. We done this as, if they need replacing in the future they can be easily isolated without draining the whole system down.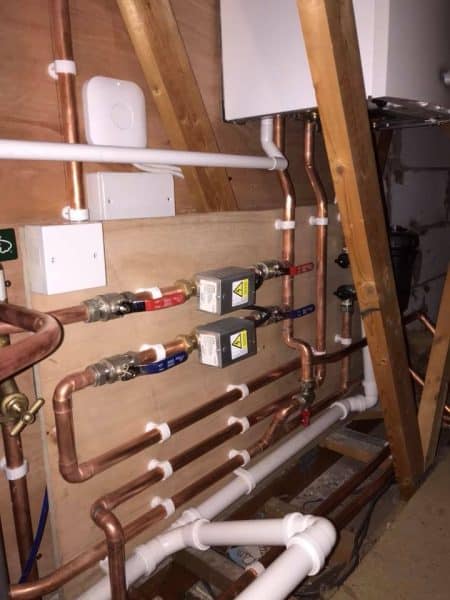 The new boiler is being controlled by a Nest 3rd Generation Smart Thermostat. This can control the heating and hot water from anywhere in the world at any time.
This New Boiler comes with a 10yr Parts & Labour Guarantee from Worcester Bosch.
If you would like information, or looking for a New Boiler in Sutton Coldfield then Get In Touch Today
This is what Mr Scott had to say about the work we carried out.......
I was quite nervous about this job given both the complexity and the fact we are in the depths of Winter. I needn't have worried. Matt's professionalism put me at ease and made sure we were without heating for as little time as possible. All carpet surfaces were covered before any work was done and everything was left spick and span at the end of the job. Highly recommended.

Time management
Friendly
Tidiness
Value