New Boiler Rugeley

We are new boiler specialists, its what we do best.
Established in 2014, Platinum Boiler Installations have grown to be one of Rugeley's most reviewed and recommended boiler installation companies. We are a family run business who love to serve local people. We are proud to be Worcester Bosch Accredited Installers and can give our customers in Rugeley up to a 12yr guarantee on their new boiler, completely free of charge.

New Boiler Rugeley
Our whole business is revolved around delivering the highest standards of workmanship, whilst maintaining our exceptional customer service.
When you are looking for a new boiler for your property in Rugeley, why not contact us, even if its just for some friendly advice, we are here to help.

Our highly skilled engineers are all time-served, qualified and regularly attend training courses to stay up to date with the latest boilers and technology on the market. This allows us to deliver an unrivalled service to our customers in Rugeley.

If you need any more information on your new boiler, contact our friendly team in Rugeley today for expert advice.


Our New Boiler Installations in Rugeley Include:

Friendly & Reliable Service

All Work Areas Fully Protected

All Works Fully Certified
Kiks Singh
09:25 29 Sep 20
Matt did a fantastic job in fitting a new boiler for us. He was very knowledgeable, happy to answer any questions, professional, and did a clean job! He spent the time to explain fully what the options were to us, and made the whole job no headache. Would 100% recommend!Mr Singh
Matthew Wilkinson
09:24 14 Aug 20
Fantastic service from Matt at Platinum Boiler Installations. Responsive, tidy and great value. Would highly recommend. Thanks!
Craig Webster
08:32 14 Aug 20
Matt from Platinum Boiler Installations fitted our new boiler at our house in Walsall. The work was completed on time and to a high standard, the house was left spotless. Would definitely recommend if you are looking for a new boiler. 5*
Michael Karim
21:04 21 Jul 20
Mark Gibson
08:55 21 Jul 20
An excellent service from Matt at Platinum Boiler Installations. His communication and attention to detail was outstanding from the initial inspection to completion of the job. Always punctual, friendly, considerate and very knowledgeable.
After another company wasn't able to service our boiler, they recommended Matt who was very professional and good value for money. He was prompt and arrived on time but also gave me a call when he was on his way too. He serviced the boiler at our house in Sutton Coldfield quickly and efficiently whilst providing a sense of humour at the same time. Thanks for your help Matt.
Sheila Stokes
19:53 18 May 20
Reliable and tidy. Fitted new combi boiler. Would highly recommend.
Platinum Boiler Installations fitted my new boiler at my house in Walsall, full system powerflush and 9 radiators. I cannot fault the service and workmanship. Matt provides a competitive quote, completed the work in the height of winter and was able to juggle his schedule to source and fit a special Worcester Bosch boiler at late notice. He is friendly, tidy and willing to stay until the work was completed as promised. I have also used him to complete regular boiler services for me.
Fusion Hunter
09:49 15 May 20
Matt initially came to discuss the work we required and he clearly seemed knowledgeable and professional, therefore giving us the confidence to use his services. He gave us options whether we should repair our existing boiler or replace it with a new one. Our radiators were also not performing as they should and we were happy to go along with Matt's suggestion of having them magnacleansed. We decided to go ahead with a new Worcester Bosch boiler and Matt was able to fit this just 4 days later, as well as addressing the radiator problem too. Overall Matt was punctual, considerate and very clean, and all rubbish was removed. We would be happy to use him in the future to service the boiler and would definitely recommend him to friends and family. An excellent job carried out to our satisfaction.
Steve Hughes
12:05 29 Apr 20
We had Matt from Platinum Boiler Installations fit our new boiler at our house in Sutton Coldfield. The work was done to a high standard. Very clean & polite worker and would recommend to anyone who is looking to have a new boiler fitted.
Simon Brown
09:32 01 Apr 20
We had Matt from Platinum Boiler Installations fit us a new boiler. He carried out the new boiler replacement with minimal disruption & left the house clean & tidy. He was able to offer us a 10yr guarantee on our new boiler as he is a Worcester Bosch accredited installer. His work is to a very high standard & would definitely recommend to anyone looking for a new boiler replacement.
Hannah Bannister
05:33 17 Oct 19
Matt was fantastic. The first time I called him to come round and give us a quote for fitting us a new boiler he came round the same day. He was very good at communicating and very professional with his work. Also when we had a problem, as we weren't sure how to build the pressure he also didn't hesitate to help us. Would highly recommend!
Danielle Stewart
13:32 13 Sep 19
Very happy customer. Brilliant service. Matt came to fit my new thermostat to current boiler. He fit me in with short notice and talked me through how to set it up on my phone. Would definitely recommend.
Stephen Emery
18:12 07 Sep 19
Boiler replacement completed October 2018. I was very pleased with the friendly, prompt service that Matt provided and the quality of work. Everything was left very clean and tidy after the work was completed. I would have no hesitation in recommending.
Russell Jennings
08:04 06 Sep 19
Contacted pph as we had read the reviews on trusted traders. We needed a boiler replacement and at the same time, relocating the boiler in the loft and replacing all the radiators. The work was to a very high standard, Matt and Matt were polite, punctual and left the house clean at the end of the day. Will definitely use them again.
susan bunch
20:08 05 Sep 19
Best tradesman to date. Reliable pleasant and thorough! Fitted a boiler and overhauled our ancient system. Marvellous worker. Can't speak highly enough about him. Clean worker. Would use him again. Would recommend to friends and relatives. Thank you.
DIIVSS Patel
18:54 24 Aug 19
New Boiler Install + Radiators in WalsallMatt, came and installed a new combo boiler with radiators at my parents property which had the old boiler and tank system which was around 28years old.Matt and his team are very professional and I can highly recommend him to do a brilliant job if you decide to book with him.Matt completed all work within the quote provided and there wasn't any hidden 'extra charges'5 star service.
Reg Christian
14:34 02 Aug 19
Very tidy and reliable I would highly recommend Matt you won't find a better plumber.
Anita Bishop
18:01 08 Jul 19
We had a new boiler installed in the Birmingham area that Matt fitted. The service was excellent and he was friendly, professional and very helpful. Would recommend.
Liam O'Gorman
17:45 08 Jul 19
Matt carried out a boiler replacement in walsall for my grandparents. His work was a very high standard and left the house clean and tidy . He fitted a new worcester boiler with a 10yr guarantee. Would definitely recommend. Very professional and a top tradesman.
Mick Khela
16:06 08 Jul 19
Matt fitted us a new boiler at our property in sutton coldfield excellent service would recommend to friends and family
pigandpuddings Winfield
10:35 08 Jul 19
Great service Matt was quick and efficiently resolved our leak and offered good advice many thanks would recommend!
Andrew Lees
21:02 23 Jun 19
Matt fitted a new boiler in Sutton Coldfield for me. He is very professional and knowledgeable about his trade, and was more than happy to take the time to talk me through the work and why he recommended certain options. The job was completed early and on budget, and to a high standard. I would not hesitate to recommend him to family and friends; I will certainly be using his services again for future works.
matt leathem
20:56 23 Jun 19
We had matt from Platinum Boiler Installations fit a new boiler in our property in sutton coldfield. He came out straight away from the initial phone call as our existing boiler was broken and moved his diary around to fit our new boiler the next day. His work was to a very high standard. He protected all our carpets and left our house spotless. Would recommend him to anyone looking for a new boiler.
Matt replaced our boiler at our house in Sutton Coldfield. He kept us informed throughout and did a brilliant job. I'd definitely recommend platinum boiler installations.
Chris Read
20:04 23 Jun 19
Matt from Platinum Boiler Installations fitted us a new boiler at our house in Sutton Coldfield. His work was at a very high standard and is a very tidy worker. We would recommend anybody looking for a new boiler to use their services.
Rob Moseley
07:58 23 May 19
Matt fitted a new worcester boiler at our house, arrived on time did a professional job and cleaned up after the work was finished, knowledgeable and price was competitive.Highly recommended
Conor Davies
07:54 23 May 19
Platinum boiler installations fitted us a new boiler and did a great job. He was very professional and left our house clean & tidy. Would definitely recommend
UYS. DesignBuild
20:31 17 May 19
Have used Matt from Platium Boiler Installations twice now and he's already looking at more work for me. Great service and he's prices are competitive. Very knowledgeable, and takes time to explain the different options.I love the extra back up that comes from using a Worcester Bosch approved installer and the reviews they have are a credit to the standard this company operates to.Would highly recommend Platinum
Scott Turner
11:54 05 May 19
Just had a new boiler and pipe work redone by Matt from Platinum and he's done a fantastic job, He kept his whole work area tidy whilst working and went round the whole house checking the existing radiators were working properly and all the taps were giving us hot water, Great job ...
Melanie Holden
17:59 27 Mar 19
Matt carried out a very thorough job fitting our new boiler, the boiler replacement was carried out to a very high standard
Matt Hughes
16:38 27 Mar 19
poacher fish
12:15 08 Mar 19
Our recent boiler conversion was entrusted to Platinum. I was quite nervous about this job given both the complexity and the fact we are in the depths of Winter. I needn't have worried. Matt's professionalism put me at ease and made sure we were without heating for as little time as possible. All carpet surfaces were covered before any work was done and everything was left spick and span at the end of the job. Highly recommended.
James Cuffe
01:18 06 Feb 19
Excellent level of service and our first call from now on
Alec Calderbank
22:31 05 Feb 19
Excellent service, very professional and very knowledgeable. Highly recommended
julian thorpe
21:32 05 Feb 19
Matt has always provided a fantastic service for the properties we rent out. He fitted a Worcester Bosch boiler at very short notice for one of our tenants who had no heating or hot water very close to christmas.
Darren Russell plumbing &heating heating engineer
20:47 05 Feb 19
Just a great experience from start to finish, new boiler fitted with a 10 year warranty and quality install to match, would highly recommend.
rebecca rees
06:48 12 Oct 18
I have employed Matt to carry out all of my plumbing work to the past two house renovations that I have done. Most recently he fitted a new bathroom, boiler, kitchen and radiators throughout my house. I found Matts work to be of an excellent standard. He was professional, tidy and always showed up when he said he would.I have also recommended Matt to three of my friends who he has also fitted boilers for. Would highly recommend.
Rebecca Preece
09:33 08 Oct 18
We use Matt now for all our Plumbing problems, he fitted our new boiler and has done all the services on it too. He is always friendly, efficient and provides a great service. Matt is always reliable, and comes when he says he is going to, unlike others we have used in the past. We have had terrible experiences in the past with other companies, so would choose Matt every time!!! Highly recommend!
Heating Nerd
09:09 08 Oct 18
Did some work for me, very reliable and professional with a high standard of work !
Candy Gaming
08:08 08 Oct 18
Platinum plumbing recently fit us a Worcester boiler. Very reasonably priced and great customer service. Matt was quick, reliable and clean and tidy. I have recommended Platinum plumbing to many friends and they have all been more than happy with Matt's work 👍
Next Reviews
Why Choose Platinum Boiler Installations
We fit 100's of new boilers every year across Rugeley and the
surrounding area's, its what we do best. Over the years we have developed the business and now just specialise in new boiler installations.

Worcester Bosch Accredited Installers

We hold the highest required insurances, licences & training.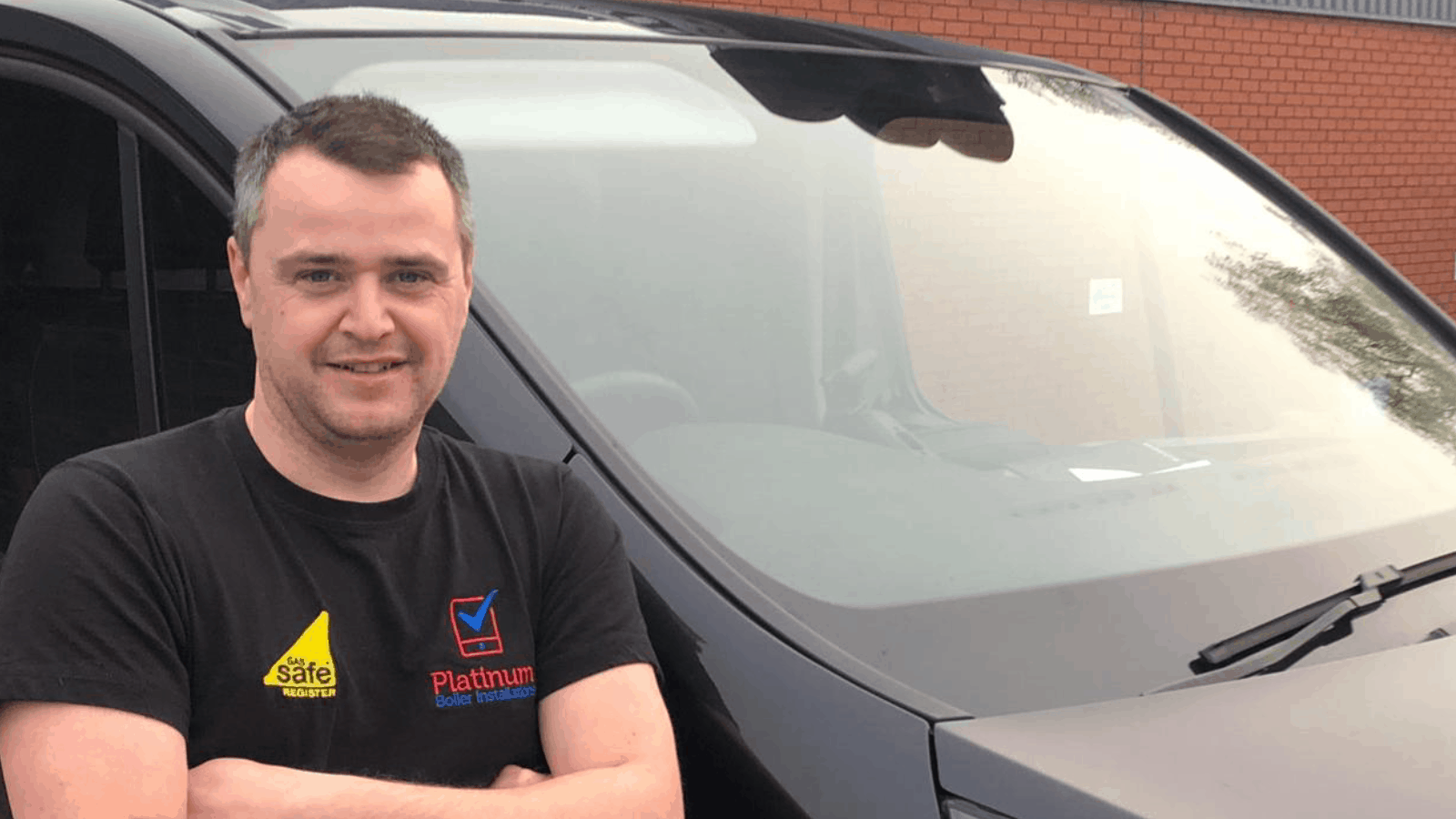 Have a question?
Speak to one of our friendly team today.
For expert advice on your new boiler replacement in Rugeley, don't hesitate to get in touch. Contact Us today for all your new boiler requirements.