New Combi Boiler Tamworth

We are local combi boiler replacement experts, based in Tamworth. Its what we do best.
Established in 2014, Platinum Boiler Installations have grown to be one of the most reviewed and recommended local combi boiler installation companies in the Tamworth area. We understand that buying a new boiler is expensive, thats why we have made it easier for our customers in Tamworth, with our excellent range of pay monthly offers. Whatever your budget is, we can help you make it easier to get your new boiler.

Worcester Bosch Accredited

New Combi Boiler Tamworth
Want to spread the cost of your new combi boiler? Here at Platinum Boiler Installations, we offer a range of flexible payment options to suit your budget.
If you need a new combi boiler installed fast, we can also help you by arranging flexible monthly payments for your boiler installation. We can install your new combi boiler within 48 hours.

We take care of everything for you, from sorting your finance application, carrying out the installation and registering your new boiler. It really is easy to get your new combi boiler from us.

We are combi boiler replacement specialists. Its all we do.

Contact our friendly team in Tamworth today for your new combi boiler replacement.
Our New Combi Boiler Replacements in Tamworth Include:

12yr Parts & Labour Guarantee Available
All Works Fully Certified
Keith Parker
14:08 03 Nov 21
Julie Richards
15:06 10 Sep 21
Complete upgrade of central heating system from Matt at Platinum Boiler Installations. Everything was fully explained from the initial quote right through to installation. The job was completed on time and to plan. Matt was professional, very knowledgeable and clearly took pride in his work. Matt delivered a first class job and I would not hesitate to recommend Platinum!
Dazza Wootton
21:02 07 Sep 21
Great service from Matt - very efficient and good attention to detail.
Worcester Bosch has recommended Matt from Platinum Plumbing to do our installation .Matt was professional right from the start till the finish and the Installation of our new Boiler was flawless and thorough.We were very impressed by his time keeping and professionalism .Highly Recommended.
Lisa McGovern
19:22 05 Sep 21
What a brilliant company. I called matt and he came round the same day. Gave Me a cost to fix the boiler or a cost to replace. We went for replace option. He juggled his other customers to fit our new boiler as we had no hot water or heating.He was extremely efficient and tidied before he left.We will definitely be using again and strongly recommend
Elisabeth Hughes
19:19 05 Sep 21
Very professional service with high quality workmanship. Arrived on time and left zero mess. I would recommend Matt to anyone and its great to support a local independent business. Provides a top notch service
Ruth Corcoran
14:34 06 Aug 21
Sue Knowles
12:38 11 May 21
Simon O'Connell
20:11 06 May 21
No need to shop around, Platinum exceeded my expectations: great communication, on time appointment, no fuss, went beyond the job to get us back up with heat and hot water which was an urgent need. A pleasure to deal with and a great value package.
Nick Powell
09:52 05 Apr 21
Matt and his team were helpful, professional, fast and tidy. Best I've come across. I would thoroughly recommend Platinum Boiler Installations.
Black Country Comedy
21:28 26 Mar 21
Excellent service and professionalisms. Had my new boiler up and running in no time!
Peter Samson
21:28 26 Mar 21
Matt came with his mate and removed my horrible electric boiler and installed an new Worcester gas boiler. Both were Extremely professional, polite and have a high standard of work. Would recommend to anyone and I will be using them in future for other jobs i have coming up
C J Charles Ltd
18:40 08 Mar 21
Mark Nicholls
07:36 09 Feb 21
Wow these guys turned up on time early morning worked all day in sub zero conditions in my garage replacing my old combi boiler for a new Worcester combi with smart controls the quality of their workmanship and attention to detail of the installation is outstanding thanks
Robert Chesner
19:41 04 Feb 21
Excellent service. Great communication and efficiency from start to finish
Mark Perryman
18:50 03 Feb 21
I ordered the boiler through Worcester to replace our old inefficient temperamental one and Matt called around 30 minutes later to confirm the install date he put coverings on the floor completed the installation in around 4 hours as it was a straight swap everything was left neat and tidy he took the old boiler away and before he left went through the boiler and thermostat operation so would definitely recommend thanks Matt.
Salma Sultan
08:59 02 Feb 21
We ordered our heating installation through Worcester Bosch after our boiler broke down and it was getting too expensive to upkeep.Matt was one of their recommended installers and he was very prompt with his communication, very professional and arrived well before time in the day of installation.Upon learning that we were without heating with 2 toddlers at home, he rearranged his diary to prioritise us. We wouldn't ever go to anyone else now.
Ellie Bowes
20:55 01 Feb 21
Matt and Liam recently installed a new boiler for me after my old boiler breaking.Matt and Liam were able to replace my broken boiler with a brand new Worcester Bosch boiler within a few days of contacting him.The workman was to a high standard and completed for a very good price.I will be definitely using them in the future and recommending to friends and family.
Charlete Murcott
23:29 08 Jan 21
New boiler and thermostat fitted. Very quick service and very professional throughout. Took the time to explain the new thermostat to ensure we knew how to use it. Very tidy worker ensuring that all rooms were left how they were found.Definitely recommend and will use again in future if or when needed.
Steve Wildman
21:55 08 Jan 21
Matt and Liam were excellent. On time, clean, tidy and super professional. Greatly appreciated as it must be a busy time and a fair distance to come - great job, thanks guys. Wouldn't hesitate to recommend 👍
Louise Richardson
21:39 07 Jan 21
Excellent service all round and would certainly recommend to others.
Luke Mitchell
09:09 02 Jan 21
Adam Burgess
20:52 31 Dec 20
We used Matt to remove an old boiler and install a new one at our new property. Excellent service, was quick to respond and work was to a fantastic standard. Would definitely recommend.
Jeff Smith
21:36 28 Dec 20
My 79 year old fathers boiler failed out of the blue the week before Christmas and once contacted Matt was able to source and install a new boiler in 3 days which was 1 day quicker than was originally planned. On top of being very professional he is a really nice guy and I felt comfortable leaving him in the care of the oldies.I would have no problem at all recommending Matt to anybody who requires boiler assistance.
Surdep Sehmar
19:14 28 Dec 20
Old bolier taken out and new boiler and nest thermostat installed, started at 8AM and was completed 14:00 same day, great service, definitely would recommend.
Gregory Booth
18:42 28 Dec 20
Would 100% recommend to anyone.Price - 10/10Time - 10/10Quality - 10/10 (Best WB boiler installed and couldn't get a quote near it)After-care - 10/10We had our boiler replaced earlier this year, around June.Matt went above and beyond in all aspects of the installation.From quote right through to install and after-care.We had our boiler replaced along with switching to a closed system, and a new (Nest) Thermostat installed.There also seemed to be some issues with our existing electrics regarding the panel all the boiler wires go to - this was also fixed.Been working like a dream since.Please use these guys!
Ross Hughes
17:12 28 Dec 20
Very professional, always on time, left property clean and tidy. We will be passing their number on for recommendations. Great work guys thank you.
Mike Millership
12:06 28 Dec 20
Can not thank Matt enoughCame out on Sunday 27th of December and fitted a new boiler clean and professional job highly recommended
David Summers
09:24 23 Dec 20
WONDERFUL!!!! Matt got Intouch within half an hour of being given my you details by Worcester Bosch. Came round on the same day to assess the job and told me exactly what was required. He moved a couple of jobs around for me as I had no hot water or heating and have a two year old girl who needed a bath. Rang and said he could install new boiler a day earlier which was music to my ears. Turned up on-time, did a fantastic job and left the place spotless. Can't thank him enough really. Would recommend his services to anyone!!!
Zulqarnain Majid
18:24 18 Dec 20
Absolutely wonderful service. Came out on the same day of the phone call to assess the situation, and sent a proper written quotation via email on the same day. Competitive quote with a full breakdown. Agreed to do the work on a weekend; arrived on time.Left the place spotless and only left after ensuring everything was satisfactory.A few weeks later had a potential issue and came out to assess it and advice appropriately.
The moment I spoke to Matt over the phone I knew I wanted him to fit my boiler. My career is to profile people, and within the first 10 seconds I knew he was one of the good guys. He was polite, professional and not a typical sales guy who I have experienced many time in the past when buying a new product or service. With 2 young Children at home and no heating or hot water, Matt rearranged his diary and came out straight away, on time. He covered all my floor in protective covering, and worked non stop to fit the new boiler. I was very impressed with the service, I have recommended Matt to my friends, family and work colleagues and I no doubt will always call Matt for any future servicing or if any issues arise.He is one of the decent tradesmenTop bloke, top company, top service,Top priceThank you Matt👍
Geraldine Fahy
15:34 18 Nov 20
James Fahy
21:19 10 Nov 20
Kiks Singh
09:25 29 Sep 20
Matt did a fantastic job in fitting a new boiler for us. He was very knowledgeable, happy to answer any questions, professional, and did a clean job! He spent the time to explain fully what the options were to us, and made the whole job no headache. Would 100% recommend!Mr Singh
Matthew Wilkinson
09:24 14 Aug 20
Fantastic service from Matt at Platinum Boiler Installations. Responsive, tidy and great value. Would highly recommend. Thanks!
Craig Webster
08:32 14 Aug 20
Matt from Platinum Boiler Installations fitted our new boiler at our house in Walsall. The work was completed on time and to a high standard, the house was left spotless. Would definitely recommend if you are looking for a new boiler. 5*
Michael Karim
21:04 21 Jul 20
Mark Gibson
08:55 21 Jul 20
An excellent service from Matt at Platinum Boiler Installations. His communication and attention to detail was outstanding from the initial inspection to completion of the job. Always punctual, friendly, considerate and very knowledgeable.
Sheila Stokes
19:53 18 May 20
Reliable and tidy. Fitted new combi boiler. Would highly recommend.
Platinum Boiler Installations fitted my new boiler at my house in Walsall, full system powerflush and 9 radiators. I cannot fault the service and workmanship. Matt provides a competitive quote, completed the work in the height of winter and was able to juggle his schedule to source and fit a special Worcester Bosch boiler at late notice. He is friendly, tidy and willing to stay until the work was completed as promised. I have also used him to complete regular boiler services for me.
Fusion Hunter
09:49 15 May 20
Matt initially came to discuss the work we required and he clearly seemed knowledgeable and professional, therefore giving us the confidence to use his services. He gave us options whether we should repair our existing boiler or replace it with a new one. Our radiators were also not performing as they should and we were happy to go along with Matt's suggestion of having them magnacleansed. We decided to go ahead with a new Worcester Bosch boiler and Matt was able to fit this just 4 days later, as well as addressing the radiator problem too. Overall Matt was punctual, considerate and very clean, and all rubbish was removed. We would be happy to use him in the future to service the boiler and would definitely recommend him to friends and family. An excellent job carried out to our satisfaction.
Steve Hughes
12:05 29 Apr 20
We had Matt from Platinum Boiler Installations fit our new boiler at our house in Sutton Coldfield. The work was done to a high standard. Very clean & polite worker and would recommend to anyone who is looking to have a new boiler fitted.
Simon Brown
09:32 01 Apr 20
We had Matt from Platinum Boiler Installations fit us a new boiler. He carried out the new boiler replacement with minimal disruption & left the house clean & tidy. He was able to offer us a 10yr guarantee on our new boiler as he is a Worcester Bosch accredited installer. His work is to a very high standard & would definitely recommend to anyone looking for a new boiler replacement.
Hannah Bannister
05:33 17 Oct 19
Matt was fantastic. The first time I called him to come round and give us a quote for fitting us a new boiler he came round the same day. He was very good at communicating and very professional with his work. Also when we had a problem, as we weren't sure how to build the pressure he also didn't hesitate to help us. Would highly recommend!
Danielle Stewart
13:32 13 Sep 19
Very happy customer. Brilliant service. Matt came to fit my new thermostat to current boiler. He fit me in with short notice and talked me through how to set it up on my phone. Would definitely recommend.
Stephen Emery
18:12 07 Sep 19
Boiler replacement completed October 2018. I was very pleased with the friendly, prompt service that Matt provided and the quality of work. Everything was left very clean and tidy after the work was completed. I would have no hesitation in recommending.
Russell Jennings
08:04 06 Sep 19
Contacted pph as we had read the reviews on trusted traders. We needed a boiler replacement and at the same time, relocating the boiler in the loft and replacing all the radiators. The work was to a very high standard, Matt and Matt were polite, punctual and left the house clean at the end of the day. Will definitely use them again.
Next Reviews
Why Choose Platinum Boiler Installations
We are one of the reviewed boiler installation companies in the Tamworth area. With our new combi boiler pay monthly options, it makes it easier for our customers to pay for their new boiler. With us being able to offer our customers a 12yr parts & labour guarantee on selected Worcester Bosch boilers, it really is the perfect combination.
Worcester Bosch Accredited Installers

12yr Guarantees Available
We hold the highest required insurances, licences & training.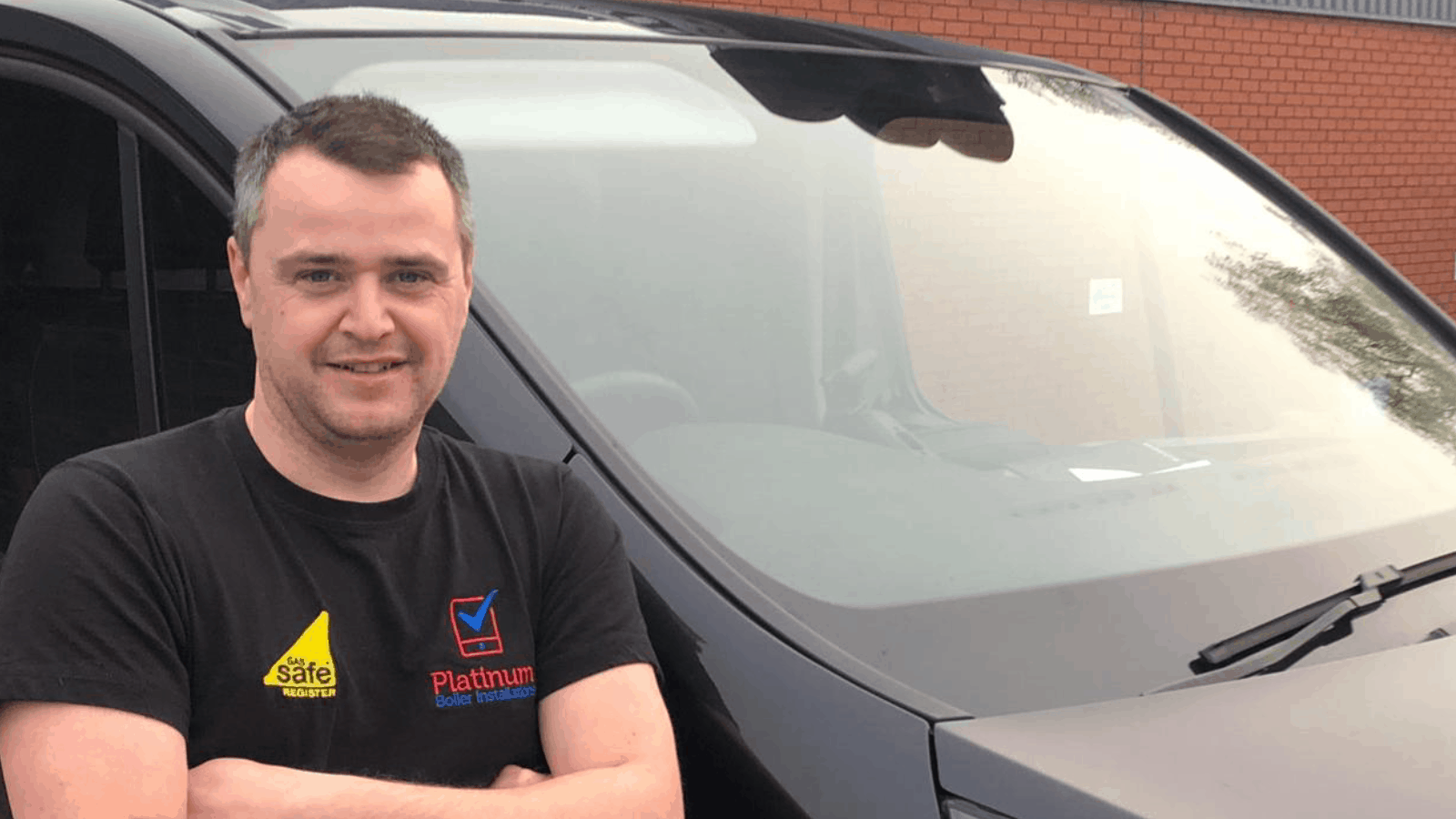 Need Advice on your New Combi Boiler?
Speak to our team today. No call centres.
For more information on a new combi boiler replacement, contact our friendly team in Tamworth today.