New Boiler Installation in Sutton Coldfield
This high efficiency gas boiler was installed as part of a complete house renovation and extension.
This boiler installation incorporates a nest learning thermostat, which gives the customer the ability to control their central heating and hot water from anywhere in the world, whenever they want.
The boiler we installed for this project was a Worcester Bosch 30cdi classic system boiler. The customer chose a Worcester Boiler because of its reliability and efficiency. This new Worcester Boiler comes with a 10yr parts and labour guarantee from Worcester Bosch.
---
Get a FREE Quote in Under 30 Seconds.
---
We installed a Joule 250l unvented hot water cylinder alongside the new boiler with a secondary hot water circuit. What the secondary hot water circuit does is, it constantly pump hot water around the house by a bronzed pump. So when you draw hot water off from a tap, the hot water is instant. The same system they use in hotels and hospitals. We decided to go for the secondary hot water circuit as the cylinder was in the garage and the bathrooms and en-suites were at the other side of the house. Without this a lot of water would have been wasted whilst running the hot water tap waiting for hot water to come out.
We also installed sixteen new radiators and all new pipe work throughout the house. With the new boiler coming with a 10 year parts & labour guarantee, this customer now has complete peace of mind with their heating system and new boiler.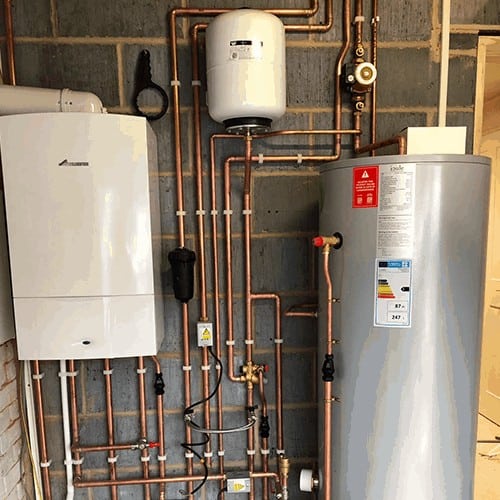 This is one of many boiler installations we have carried out in Sutton Coldfield.
If you live in Sutton Coldfield and would like a free site survey and quotation for a new gas boiler replacement the Contact Us today.