Buying a New Boiler
What You Need to Know Before Buying a New Boiler
Buying a new boiler can be like a minefield. So let me help you out by giving you a bit of inside information, and the places where you should be looking to do your research.
The first thing you need to understand when looking into a new boiler is, understanding your hot water requirements. If you have multiple bathrooms in your property then a combi boiler is not going to be up to the job. You will need some stored hot water.
A Little bit About Combi Boilers
When sizing up for a new boiler on your central heating side, if you allow around 1.5kw per radiator it gives you a good indication of the output you need for your central heating. For example a 3 bed house with 9 radiators would require around 13.5kw for your central heating side.
When carrying out your research for a new boiler, you should be looking at the spec of the boiler and particularly the output for the central heating. Although the boiler might be a 30kw, it may only deliver 24kw on the central heating side. The boiler produces 30kw at its maximum rate. Which is on the hot water side. This is why it is so important to test your cold-water main flow rate coming in to your property. This is how we size up a combi boiler properly.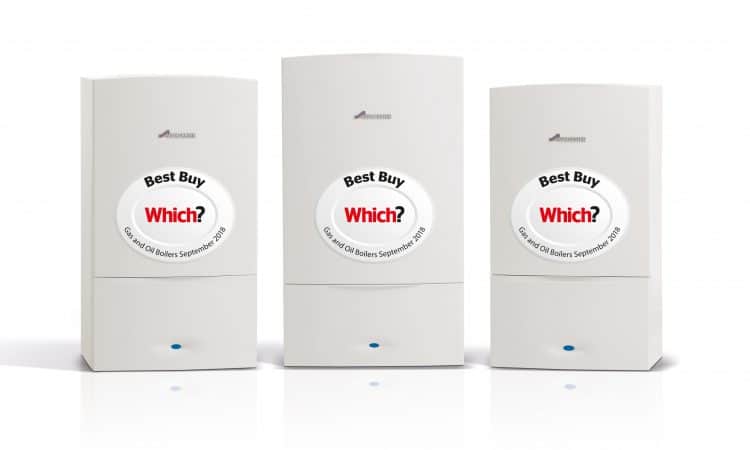 Tips of What to Research
First thing you need to determine is how you use your hot water - If you have multiple bathrooms or run more than one tap at a time then a combi boiler is no good. You will need some stored hot water. Do a little research in to what system will work best for your home and family.
Do research in to different boiler manufacturers - Go on which?, trustpilot, google etc and see the customer reviews who have these boilers fitted in their house, and how they rate the boiler for reliability, value and the after-care service.
Choosing the right boiler installation company - Like you did with the boiler manufacturers check out the company online. The very first place you need to check is the Gas Safe register website to see if they are registered and qualified to be working with gas boilers. Check out their website (look at the photo gallery to see their previous work), facebook page, reviews etc. If you cannot find any/much information about the company, then alarm bells should be ringing.
Public liability insurance – Ask the boiler installation for proof of their public liability insurance. We are dealing with gas and water when fitting a new boiler, so if anything does go wrong then you want to make sure that company is insured to cover any damage to your property.
Always get 3 quotes - Shop around. You must always get 3 different quotes. This will then give you a good indication of what each company can offer you.
Extended guarantee's - Now most people won't know this, but certain boiler installation companies will be accredited to certain boiler manufacturers. So once you have done your research into what boiler manufacturer you are thinking about using, then go on their website, and there will be a selection of local boiler installation companies who should be able to offer you an extended guarantee on your new boiler. For example, here at Platinum Boiler Installations, we are Worcester Bosch accredited installers so instead of offering our customers the standard 5 year guarantee, we can offer a 10 year guarantee completely free of charge.
Surveys – When you are having surveys carried out for your new boiler installation ensure the company are bringing out boiler literature, and talking in-depth about the different boiler options and systems. If you have done your research as stated above it will give you a better understanding, and enable you to ask more detailed questions. The MOST IMPORTANT thing when you are having a survey carried out for a new boiler installation, is to make sure they are testing your cold water main flow rate. If not, then they are just guessing at the size of the new boiler for your home. This could then undersize or oversize the boiler, costing YOU money. If they are NOT testing your cold main then I would stay well away from that company!! If you want to see a video of this, then click here
Company guarantee – Does the boiler installation company offer any guarantee on their workmanship? If so, ask how long, and get it in writing via e-mail. If they don't offer any guarantee ask them why not!!
When looking for a boiler replacement be very careful about using online quoting tools. They DO NOT do full in-depth surveys of your property, and can cost you money and time during the boiler installation. They are great for giving you an idea of the cost for a new boiler, but I will always recommend a thorough in-depth survey. That way you will get the correct sized boiler for your property, and no surprises on the installation day itself.
If you would like any further information regarding a boiler replacement then get in touch today