What is a Condensing Boiler?
From April 2005 it became legislation that every new boiler fitted in the UK must be condensing.
Condensing gas boilers are really efficient, making the fuel you are burning to heat your home go much further. If you are looking at replacing your old, in-efficient G-rated gas boiler, with a new condensing gas boiler, and improve your central heating controls you could typically save around £300 per year.
So, let me explain how a condensing boiler works, and the difference between a non-condensing gas boiler and a condensing boiler.
What is a Condensing Boiler?
A condensing gas boiler is simply a boiler that uses gas or oil. It is designed to improve the efficiency by turning water vapour condensation into heat, for your home. Condensing gas boilers have all the same components as non-condensing gas boilers, but the difference is, they are able to make better use of the heat they generate from burning fuels. Such as gas and oil.
How Does A Condensing Gas Boiler Work?
With a non-condensing gas boiler some heat gets wasted through flue gases, what a condensing gas boiler does is, it re-uses some of that heat and recycles it back in to the heating system meaning you don't need to use as much gas with a condensing boiler making it more efficient.
The water vapour in the flue gases can be so cool that it condenses, and is discharged via a condense pipe from the boiler.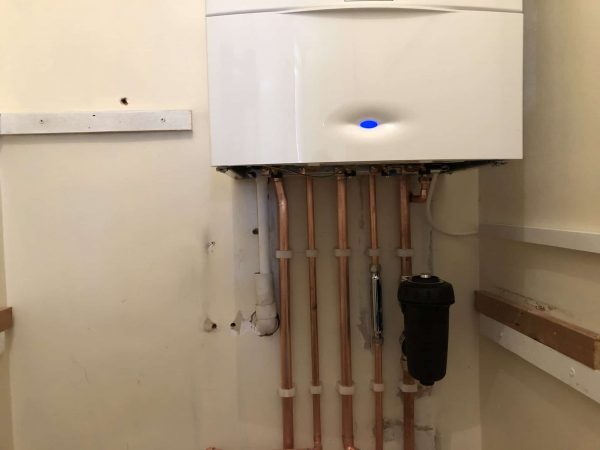 What Else You Need To Know About Condensing Boilers
·Since 2005 it has become compulsory for EVERY new gas fired boiler installed to be condensing, and have an efficiency rating of A. This was introduced to cut the UK's CO2 emissions.
·Condensing gas boilers are a lot safer than non-condensing boilers as they draw the air needed for combustion from outside, making the appliance room sealed, as oppose to a gas boiler which gets it air from the room it is fitted in, open flued, although this doesn't apply to all non-condensing gas boilers.
·A condensing gas boiler is typically around 25% more efficient than a non-condensing gas boiler.
·If you are looking at buying a new gas boiler and currently have a non-condensing gas boiler then one thing you need to be aware of is the condense pipe. This is a pipe from the boiler that will need to go to a drain. If there is not one close by you can either pump it to a drain via a condense pump, or put a soak-away in, which must be a minimum of 500mm from your property.
·It is always best to keep a condense pipe internal if possible. As if its run external & the outside temperature drops below freezing it can cause the condense pipe to freeze. This will lockout the boiler when you need it the most. There is a simple solution, and that is to pour a warm kettle of water over the pipe to melt the ice plug (you may have to do this up to 10 times depending on the ice plug) and you will get your boiler back up and running in no time.
If you need any more information on condensing gas boilers then please get in touch today.