Boiler Service Sutton Coldfield
We carry out 100's of boiler services in Sutton Coldfield each year. It is very important to get your boiler serviced annually. This will help with:
Reliability
Efficiency
Safety
Reliability
Having your boiler serviced annually will ensure it is running as reliable as possible. A service may also help to spot developing faults with the boiler before they happen. Replacing a boiler is expensive, lack of maintenance is one of the biggest reasons that your boiler will develop a problem. If left unattended, even the smallest issue can mean a new boiler is required.
Efficiency
Keeping your boiler running as efficient as possible is going to save you money on your energy bills and repair bills. As your boiler gets older, it inevitably loses its efficiency. Regular servicing can slow this process down. During the service we carry out various checks to ensure the boiler is operating at its full potential. But, no amount of servicing is going to make a 10+ year old boiler any more efficient, only a boiler replacement could do that.
Safety
Safety is paramount where any gas appliance is installed. Any appliance that burns gas will produce Carbon Monoxide. This is taken away from the boiler via a flue. If the boiler is left unchecked for a significant amount of time, the flue could have failed and be leaking deadly Carbon Monoxide in to your property with out you knowing. Carbon Monoxide has no smell and can only be detected by a CO alarm. There are signs that you maybe suffering from Carbon Monoxide Poisoning. It is also important to check gas pressures on a service as this can create safety issues with the boiler.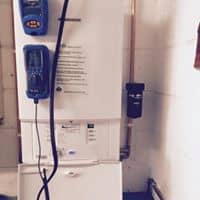 If you would like more information on a Boiler Service in Sutton Coldfield, then get in touch today